10% OFF YOUR ENTIRE ORDER
Use code
LaborDay10

at checkout
00

Days

00

Hours

00

Minutes

00

Seconds
We are sorry but our Sale has ended. Don't worry you can still continue to shop our recently added treats and toys! Also, don't forget to check out about our NEW Bandana Only Subscription!
Take advantage of our Labor Day Sale!
September 4th - September 7th
American Dog Heart of Stone Large
ZippyPaws - Birthday Cake Squeaky Dog Toy with Soft Stuffing
PetLou 8 Inch Giraffe Plush Chew Toy
Petlou 4" EZ Squeaky Lamb Ball
Hagen Dogit Pink Cotton Rope Bone Small
Petlou EZ Squeaky Frog Ball Plush Dog Toy
ZippyPaws ZippyTuff Light Up LED Ball Dog Toy
KONG Squeeze Ball Dog Toy (Colors Vary)
Jolly Pets JOLLY TUFF TOSSER Small-Medium
ZippyPaws Cheeky Chumz - Duck
ZippyPaws Spencer the Crinkle Monkey - Small Pink
ZippyPaws - Squeakie Pattiez Stuffed Plush Dog Toy with Two Squeakers
5 oz. Barksters Sweet Potato & Chicken
Bocce's Bakery Lumps Of Coal Dog Treats W/ Peanut Butter & Molasses All Natural
Canine Carry outs Chicken Flavor
Prized Pet Immunity Boost Chews
Loving Pets Duck Bites (5 oz)
5 oz. Barksters Sweet Potato & Chicken
BUY 5 BAGS GET 1 FREE
ONLY valid on the Bocce's Banana Split 5oz and  Smoochers Yogurt Drops – Banana
Strawberry Flavor
(Discount automatically applied to your cart)
Bocce's Banana Split 5oz
Smoochers Yogurt Drops – Banana Strawberry Flavor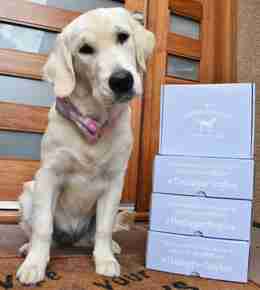 The Dapper Dog subscription box is the only box that sends you a gorgeous, limited edition bandana every month! These high-quality dog bandanas are available exclusively from Dapper Dog. 
Each box also includes:
2 healthy bags of treats or chews
2 adorable toys, all curated around cute themes like Fun in the Sun, Under the Sea, and Happy Howlidays.
Limited edition bandana